Dr. Izzy Justice is a Sports Neuroscientist who has authored 8 books over the course of 30 years on the topic of Emotional Intelligence. He was the first to integrate EQ into sports and athletic performance. He has trained and certified over 300 coaches in EQ in a wide array of sports disciplines worldwide. He has worked with athletes, coaches, and teams in NASCAR, Tennis, Soccer, Golf, Lacrosse, Basketball, Triathlon, NFL, MLB, Olympians, and many collegiate level programs.
Dr. Justice's primary work is working in Corporate America with leaders of companies integrating EQ into the workplace. Dr. Justice has worked at Deloitte, Accenture, Cerner and Premier. He has completed over 40 triathlons including 8 Half Ironmans (PR: 5:22 Hours) and is a 5-Time Full Ironman Finisher (Arizona, Chattanooga,  Roth, Mont-Tremblant, Santa Rosa, PR: 11:46 Hours).
Contact Dr. Justice: drjustice@gyragolf.com
Twitter: @izzyjustice
Podcast: Click Here
Podcast: Click Here
Facebook: Sports EQ with Dr. Izzy
Blog: Click Here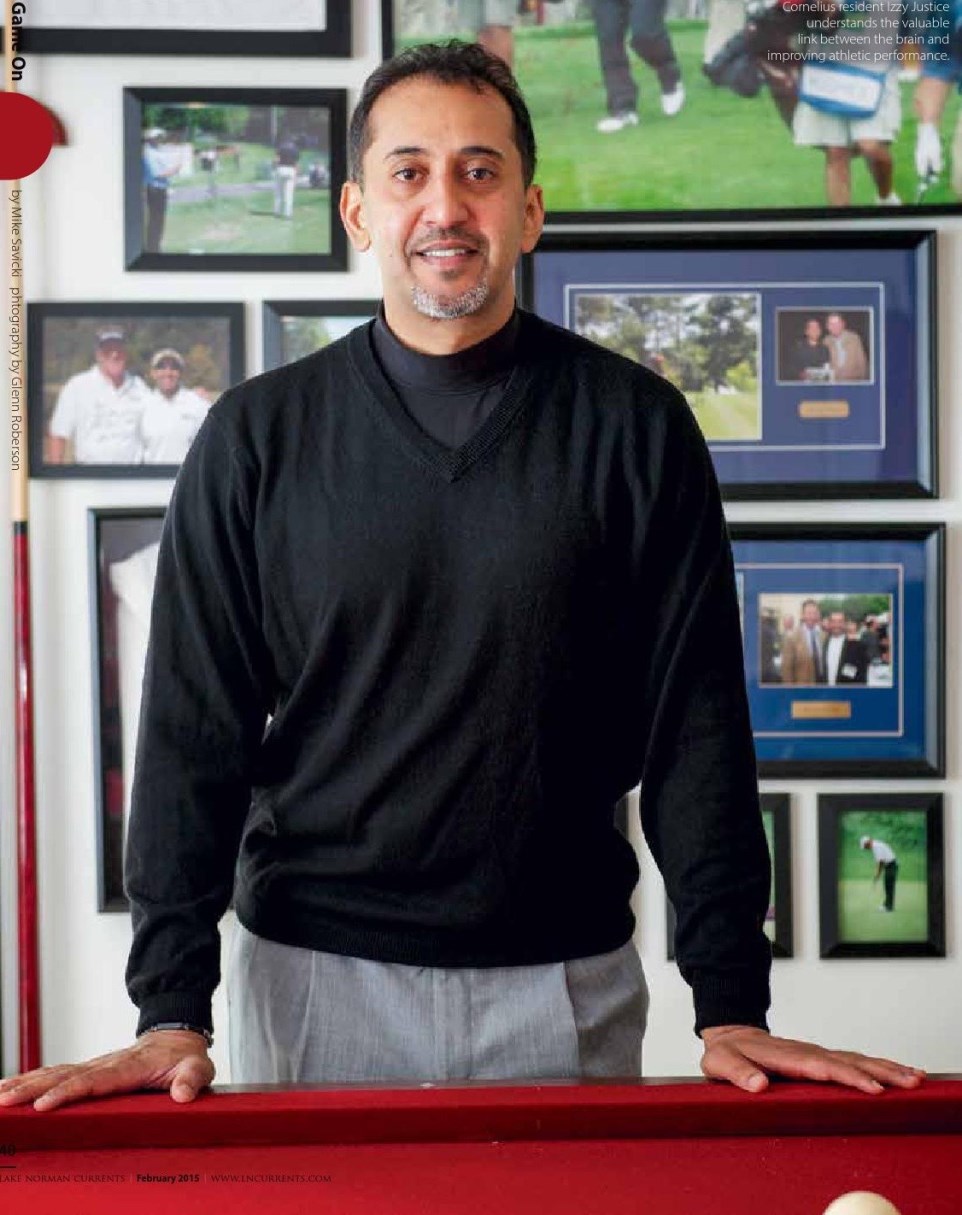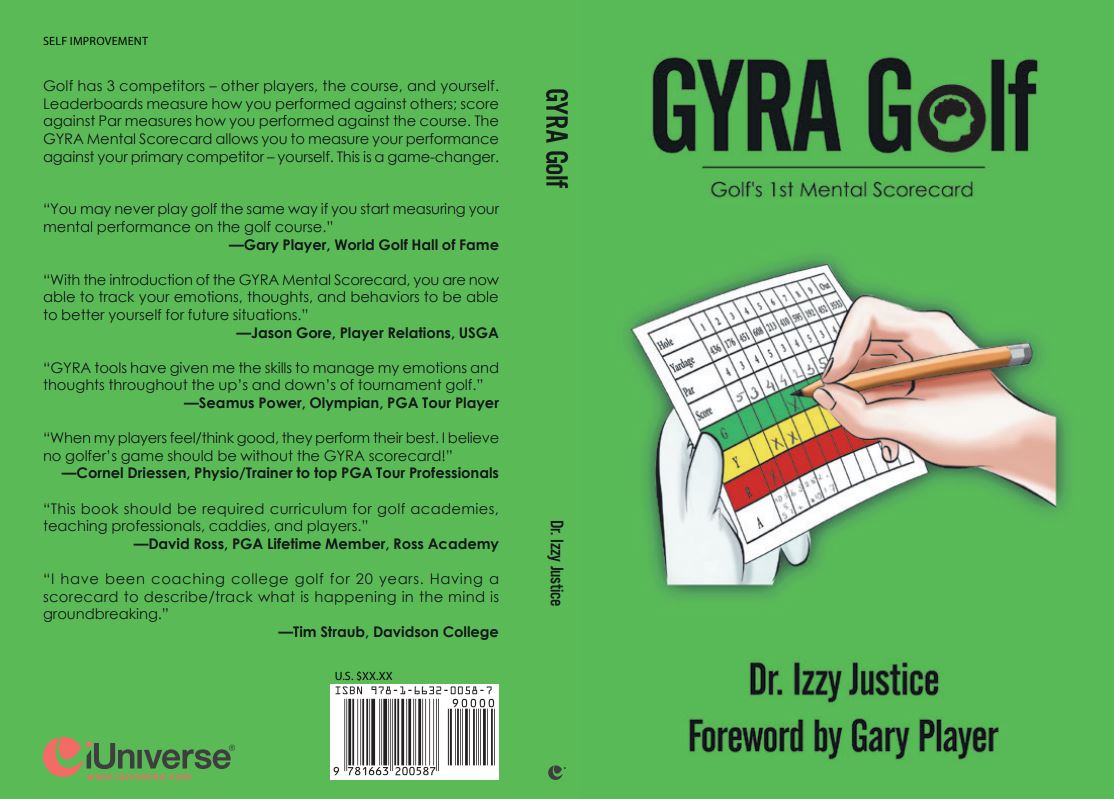 GYRA GOLF
A Neuroscience-based approach to Golf's Mental Game
"The central premise of this book is that if a golfer can measure their emotional and mental state in golf, the two most constantly-changing variables when playing, and make the right adjustments to both, then performing to the best is achieved."
As a coach, Dr. Justice works only in 6-month or 1-year programs. As a client, you must be ready to explore ways to be a markedly better version of yourself, a pre-requisite to performing better in competition.
A battery of assessments to have a measurable baseline of where you are is conducted. In person sessions will include brain-scans of scenarios common to your sport. The real tests results are performance on the course/field. These are evaluated to make sure that the right causes are always addressed. The goal is to make each coach or athlete their own neuropsychologist during competition.
Dr. Justice uses a substantive and dynamic approach to addressing large audiences. He shares extensive data, brain images, videos, and interactive exercises to keep audiences constantly engaged in a true learning mode. The brain is a tool used both on and off the golf course, and as such, benefits to his content apply to both. His sessions are highly interactive, dialogue-oriented, and each person leaves with very easy and pragmatic ideas to understanding and improving their performance and life.
On a personal note, I have found Izzy to be a thoughtful, brilliant individual, who cares as much about the people he is working with as the organizational challenge he is trying to solve.
Izzy is one of the most knowledgeable, professional change experts I have met. He brings deep behavioral expertise, critical thinking skills, and a high level of empathy when dealing with challenging change issues. The combination is powerful; Izzy is able to quickly analyze a given situation, then structure an approach and a solution that is based on both book expertise and personal experience. Most importantly, he knows how to deliver his solution is such a way that the client listens to and acts on his reccomendations. I would take Izzy anywhere I need to make real change that will last.
And then there is Dr. Izzy Justice… "Blown away!" is the best way to describe my response to a recent speech he gave. Izzy has a rare gift that enables one to WANT to learn more about EQ. Clarity, passion, and fantastic content are words to describe his style.
I look forward to seeing Dr. Izzy Justice again soon.
Over the years, I have read many articles and books on the subject of Emotional Intelligence. I have seen many speeches / presentations / videos.
During your career you often come across an individual that changes your outlook on your life and career. Izzy is one of those individuals for me. His leadership, intellect, strategic mind have greatly impacted me. There is not a week that goes by, that his work hasn't made its way into my thinking and preparation. Getting into the "green zone" is one of pearls I use routinely. The business world needs more of him.
Dr. Izzy Justice is an executive coach like I've never experienced. The questions he asks of his audience and himself are so thought provoking and his research is always game changing. His recent presentation on 'Happiness" at TTI Success Insights to a room of peers was incredible and has me envious of his client's breakthroughs to come.
Dr. Izzy is a powerful and dynamic speaker. He was the highlight of the conference I attended last week. His deep understanding of the brain combined with the ability to explain complex concepts to a diverse audience is impressive. He definitely made a lasting impact
I have known Dr. Izzy for several years. He is an excellent and engaging speaker. He is light years ahead of everyone in innovative ways to mentor employees. He is very creative and has a high quality offering for his clients to mentor their management staff. I am very impressed with his staff and management style.
Golf is one of the few sports where shots are executed without the eyes on the target. This makes the role of the brain more important, as a key sense (visual target) is not present when a shot is struck. A basketball player, for example, never takes his eyes off the basket when shooting. Slight misses of target off the Tee or shots to the green are not consequential the way that even a 1/4 inch miss is on a putt. Accuracy is therefore a premium in shortgame, particularly putting. Speed and Accuracy are commands initiated in the brain and carried to the muscles via the nervous system. There is a collaboration required between senses and the brain that is optimal in Alpha and Theta Brain waves. Practicing a quality stroke, putting drills or time on the green are skills that are stored in the brain, that then have to be carried to the muscles in competition. If the carrier of those skills, brain waves, are higher than Alpha and Theta (5-13 Hz), an incorrect and unintended speed is applied to the putt resulting in too firm or too soft a putt for the chosen line. Dr. Justice teaches you how to recognize what type of brain waves you have, how to modify them in real-time in competition, how to train for them, and how to apply the right force on the ball. An EEG headset is used and via bluetooth, your brain waves are recorded so you know exactly what type of emotions/thoughts correlate to higher and lower brain waves so you can use GYRA tools appropriately to always be in Alpha/Theta mode when over a putt/chip/pitch shot. Speed and Accuracy has improved in many cases as high as 90% by simply using this neuroscience approach.
Accuracy is premium. Speed is the key for a chosen line. Speed is a brain wave carried from the brain, through nerves to muscles.
Alpha & Theta Waves are required for calibration of speed (force to apply on putt). If brain waves are higher (Hz) than Alpha/Theta, then signal is compromised, leading to the wrong application of force (speed).
GYRA Neuroscience tools can be used around the green, putting routine, over the putt to ensure speed matches chosen line